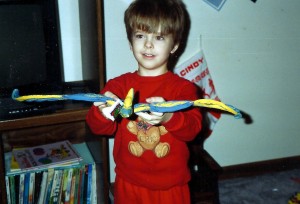 My oldest artist son seemed bored and I was newly nauseous with morning sickness with my fourth child, so we decided that he should try a well-lauded area child development center preschool associated with the local university for a half year. So in January, just before his fifth birthday, he began attending two days a week. My artist son had high hopes that the school would feed his then current interest in meat-eating plants and dinosaurs. As it turned out, the teacher never was able to work it in, and slowly my artist son's interest in attending dissipated.
Halfway through the semester, the teacher pulled me aside to ask which preschool my artist son had previously attended. She was shocked to discover he had never before attended another preschool prior to this experience. The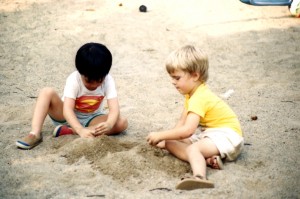 teacher then went on to sing his praises as to his social maturity compared to all the other children who had been attending various settings for some years. She said that although my artist son had entered mid-year, when connections had already formed among the children, he immediately took a leadership role in the class among his peers and easily established a rapport with the other children. Not only that, but my artist son was the most advanced problem-solver, capable of working out solutions with his peers on his own. The teacher then commended our apparent positive and influential home environment.
Although preschool had been a huge disappointment for my artist son, I had received an enormous amount of information about the limitations of a group setting and the advantages to individualized growth opportunities that existed in our home. The school environment is constrained to function within the
confines of the pre-planned curriculum material and topics. The home environment can capitalize on the driving interest pursued by each child to the depth they are capable and the breadth that is revealed through research, resources, and activities that extend beyond the walls of our home. The school structure controlled our home structure. Not only did I have to wake my napping toddler to get my artist son to school on time, but I felt compelled not to facilitate his interest in meat-eating plants at home lest they covered it at school. This inclination was my attempt at supporting the school and making sure my artist son wouldn't be bored if he already had the interest fed beforehand.
It was evident that the teacher had really believed that these children who had been together for several years through a progressive daycare set-up established at their facility, and then moving into the preschool, were going to be better prepared to be socialized for leadership capabilities and problem-solving skills. Their institution was leading the way with the adage, the sooner the better. Because my artist son had entered half-year, the teacher had been certain that he had "transferred" from an even more prestigious school than theirs and was eager to discover the source of such an excellent program. It gave the teacher pause to consider the potential fallacy of their "sooner is better" belief as she accidentally figured out that a typical, run-of-the-mill mom had raised a child who comfortably filled the "most socialized" status in the class and even in her experience.
This knowledge gained and experience garnered would be the catalyst in our decision to simply continue home learning with my artist son. As summer
approached, not only did we find a Venus Fly Trap of our own for my artist son to learn and grow from in order to facilitate that unfulfilled desire from school, but he continued to show interests in science subjects such as dinosaurs, sharks, whales and snakes. We knew school would continue to disappoint and frustrate my artist son if we adopted that path. Instead, we chose another . . . homeschooling. What about socialization? The answer came innocently before we even began.
Originally published by me in the Life without Schooling blog on July 23, 2006.