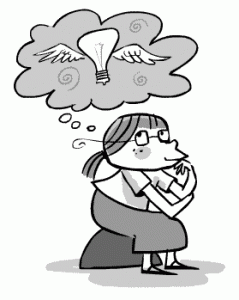 One of the two universal gifts of right-brained people are that they think in pictures…three-dimensional pictures. Chapter Five in my book, The Right Side of Normal, explains this more.  Because three-dimensional pictorial thinking is a universal gift (a trait that all right-brained people will possess), parents and educators can recognize glimpses into how these young learners process information throughout the developmental learning stages if the art of observation is employed.
The developmental learning stages is centered in the process of the brain moving from a heavily dominant position during the Foundation Stage (ages 5 to 7) (primarily relying on the genetically-determined dominant brain's universal gifts) to the Transition Stage (ages 8 to 10) (beginning to use more of the non-preferred side of the brain's traits), to the Integration Stage (ages 11 to 13) (functioning more holistically, though still often having a dominant side). Some right-brained children will give you glimpses to that process. My artist son's writing was a classic example of these three stages personified:
As many young children will do, my artist son certainly just drew pictures, like this one: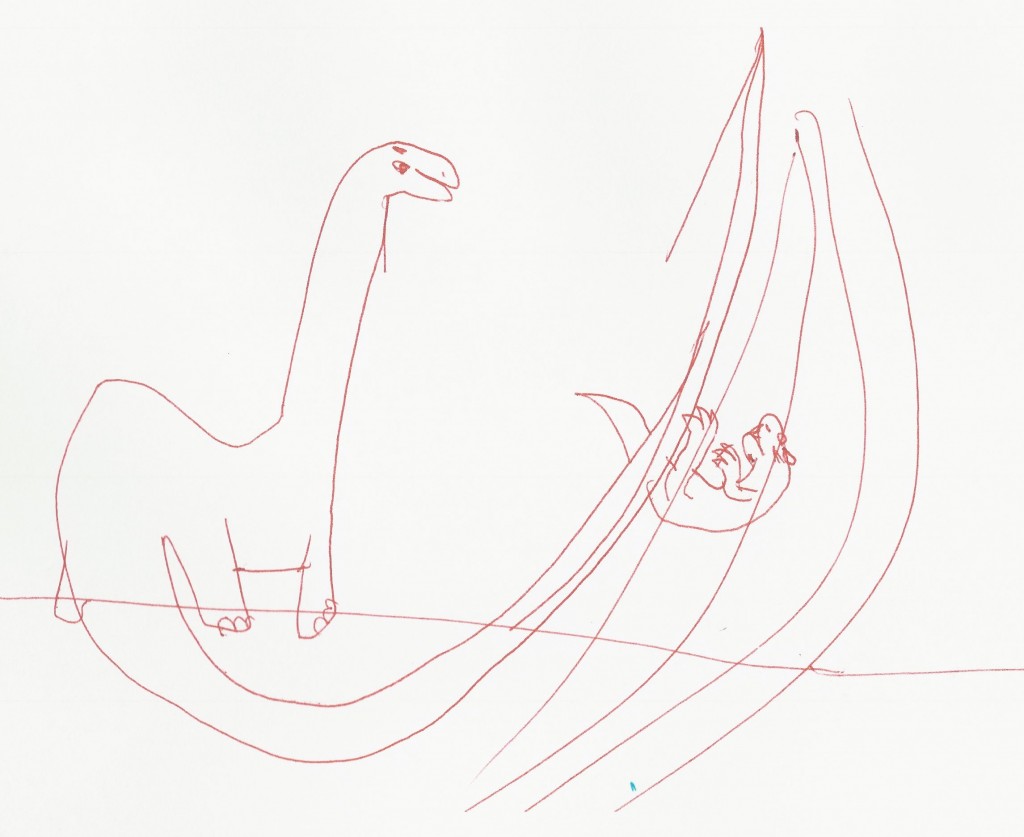 Notice that there are no words included. It's only pictorial in nature, as is the focus of the 5 to 7 year age that he was in when he drew the picture. And yet, when he entered the 8 to 10 year age stage where the transition to his non-preferred skills come into play, he added words to his picture, though the picture is still the foundation, such as this one: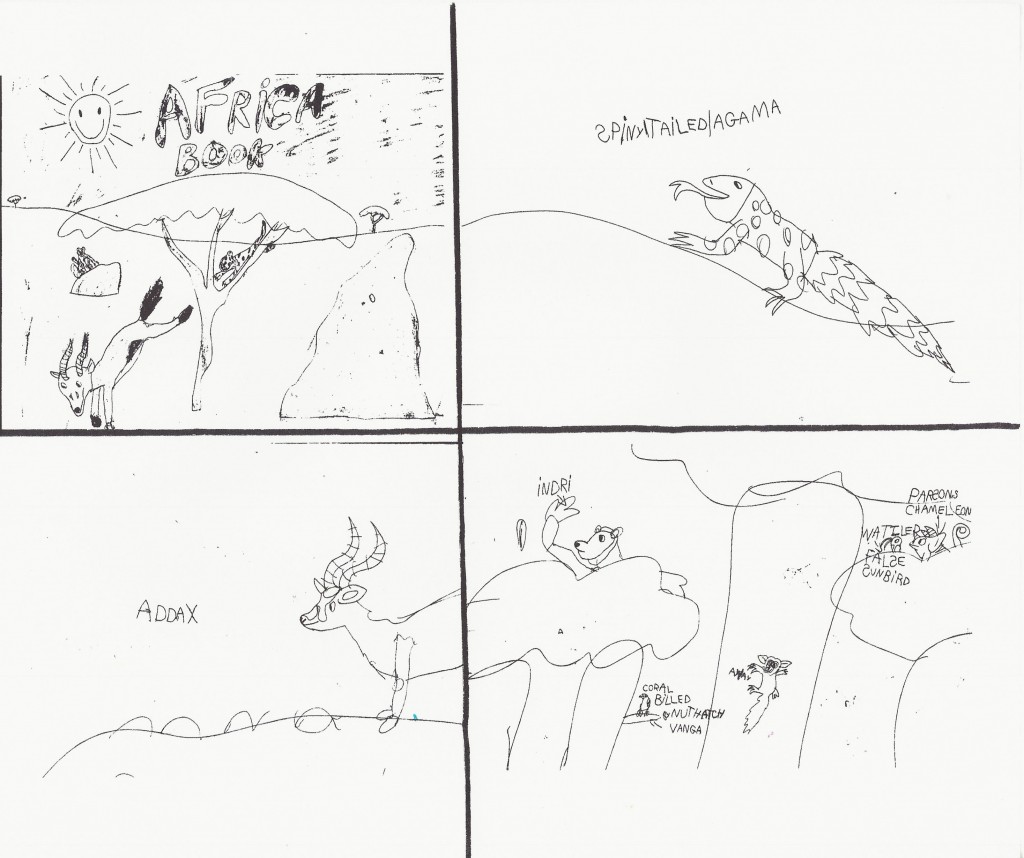 These same progressions can be seen as he learned to express his ideas through story-telling. We all learn to value writing words down to make a story, but for a picture-based right-brained story-teller, it represents itself through the stages of the development for brain integration. Here's part of the Lion King story shown through pictures only (each section had actually been drawn on a separate piece of paper) because he drew it in the Foundation Stage of 5 to 7 years old: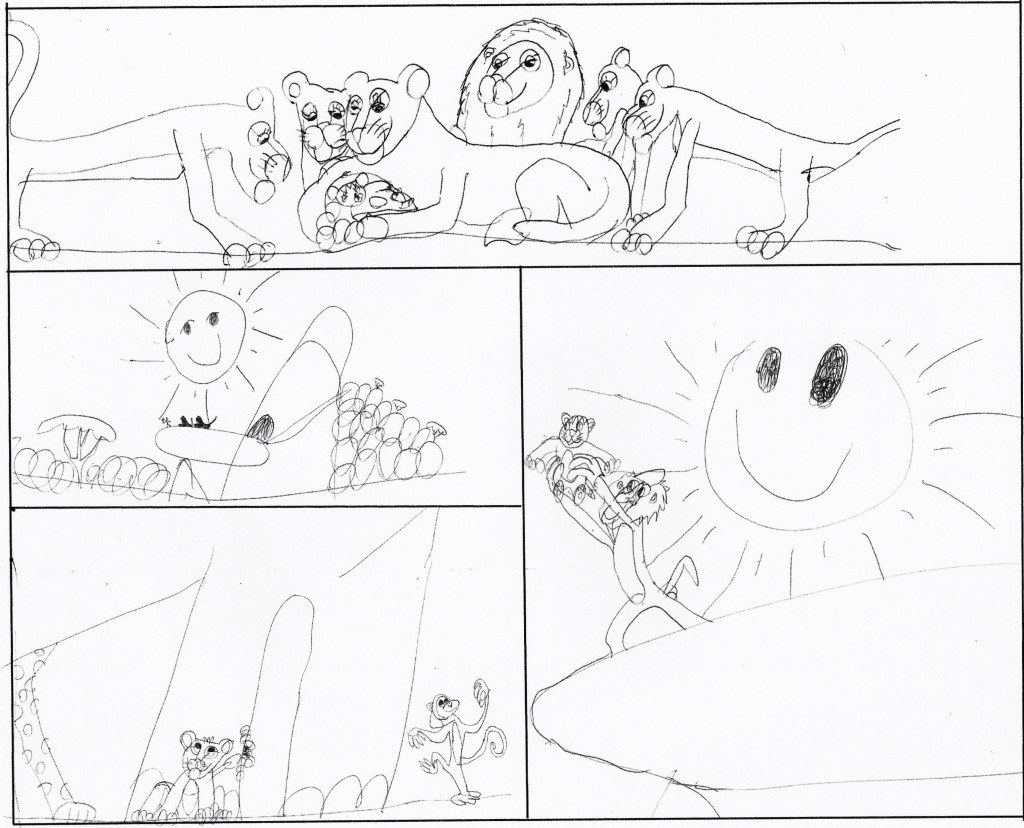 As my artist son entered the Transition Stage of developmental learning for a right-brained child, he added words to his picture story, just like his singular pictures had transitioned. This is the start of his Pokémon comic book: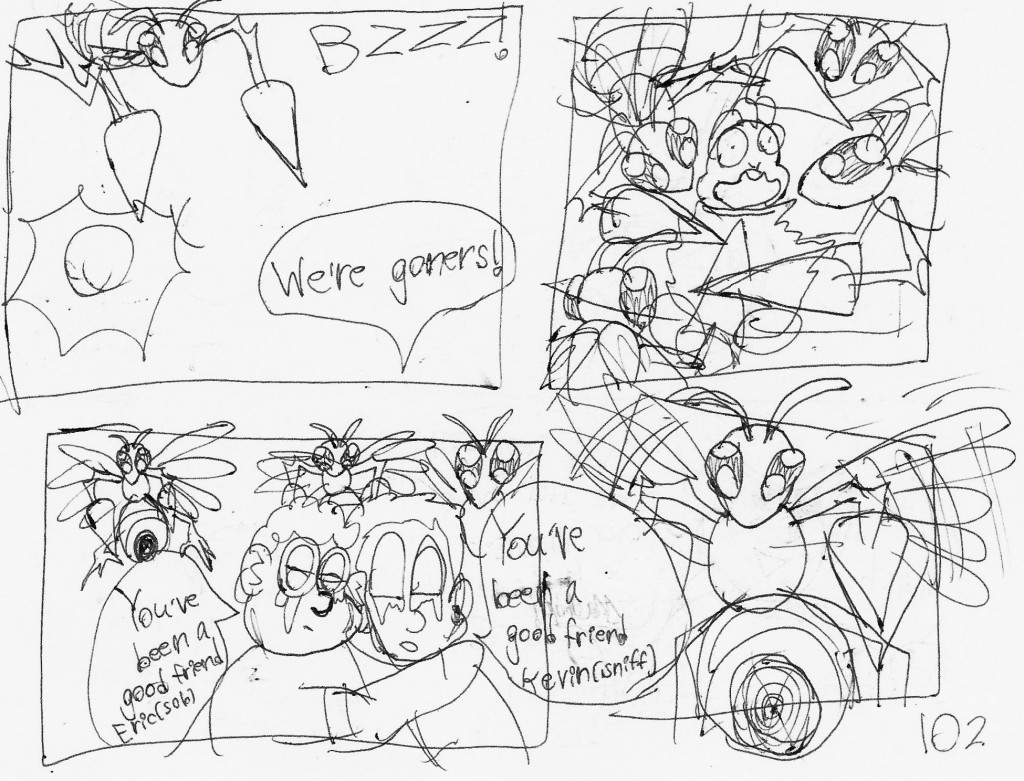 And finally, as my artist son entered the Integration Stage for writing his stories, with both sides of the brain's skill sets being more integrated, he dropped the pictures altogether. Now, mind you, this project was for a visual medium, movie making, so be assured the picture was still very much in his head, but he didn't have to represent it on paper with the picture first anymore since the integration of skill sets had come together. This is a page from his 100-page script: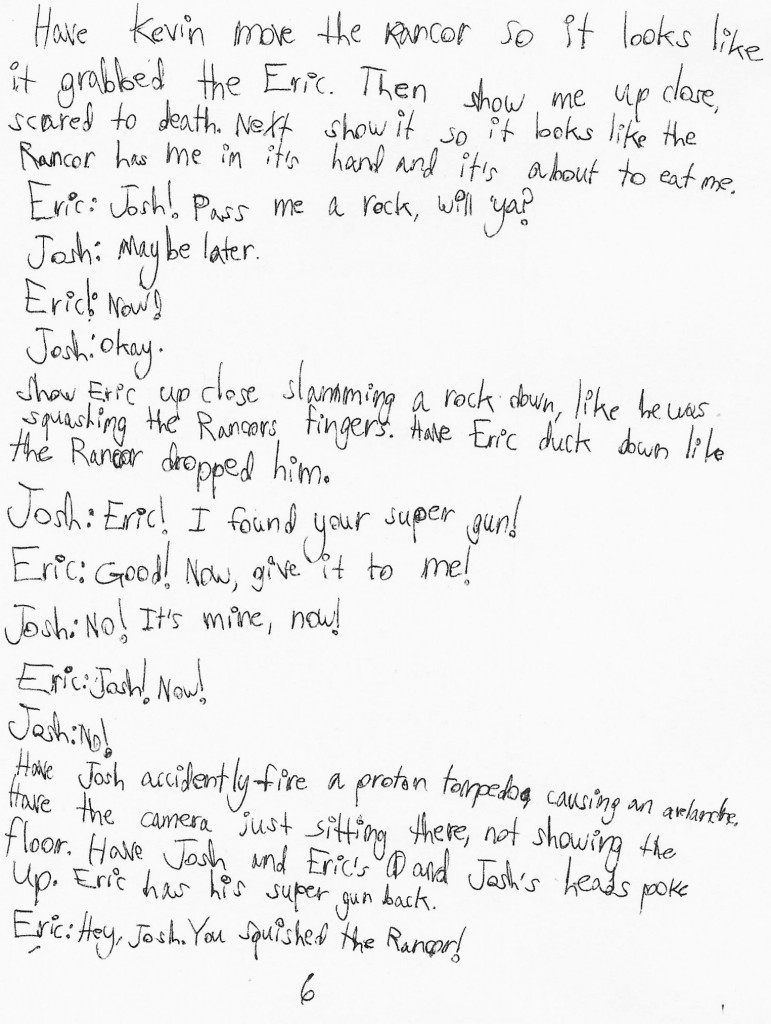 Because my firstborn son is an artist, I was able to more concretely see the developmental learning stage transitions, such as with his writing above. I also saw it with geography, history, and animals.
Other types of right-brained learners may be able to show you glimpses in other ways. For instance, right-brained children tend to learn time and calendaring later because of their skill set of space versus time (see Chapter Nine in my book). A comment from a mother at my post on time shared how her Foundation Stage right-brained son enjoyed learning about calendaring using full pictorial methods:
Your blog has helped me so much and I've stayed up way too late reading! I've done RB-accommodating things for my son (now 7) all his life, without really understanding what I was doing, but knowing it was a very effective way to communicate with him. After reading your blog, EVERYTHING clicks and I can be an even better parent! This post made me think of one small success we recently had. My son was thinking about holidays, but couldn't figure out how they all fit into all the months on the calendar. We made a poem together with family-relevant rhymes for each month ("Jan. is month number one when skiing is our favorite fun"), and then he illustrated the rhymes. He came up with the idea of a squirrel who, in each month's picture, had various misadventures, like rocketing out of a firework factory in July, He remembers the order of all the months so well now, and after reading your blog, I totally understand why. Thank you!
My builder son also self-initiated learning about calendaring in the Transition Stage, thus, he used some symbolism by drawing out the calendar, but including pictorials: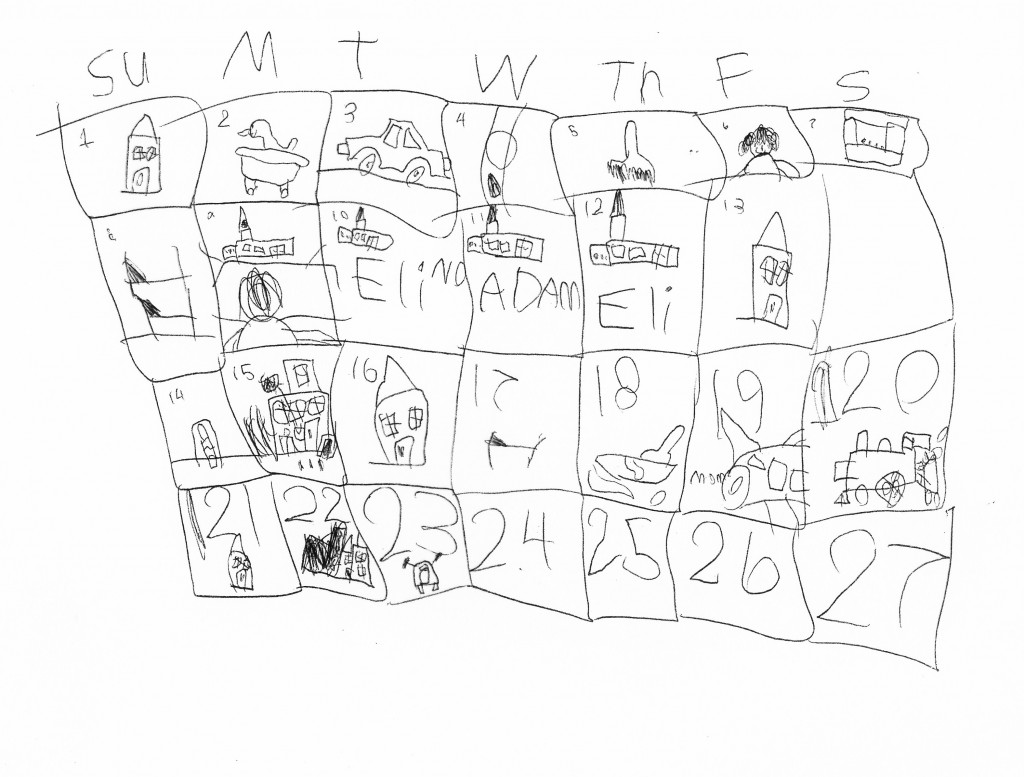 My last example of the evidence of the universal gift of pictorial thinking at play as shown through the developmental learning stages is my builder son. He was very much a person who developed his spatial abilities at a young age. He discovered mazes as one way to do this. He moved quickly away from doing pre-made mazes to creating his own. This is a maze he created during the Foundation Stage of 5 to 7 years old. Notice he included pictures: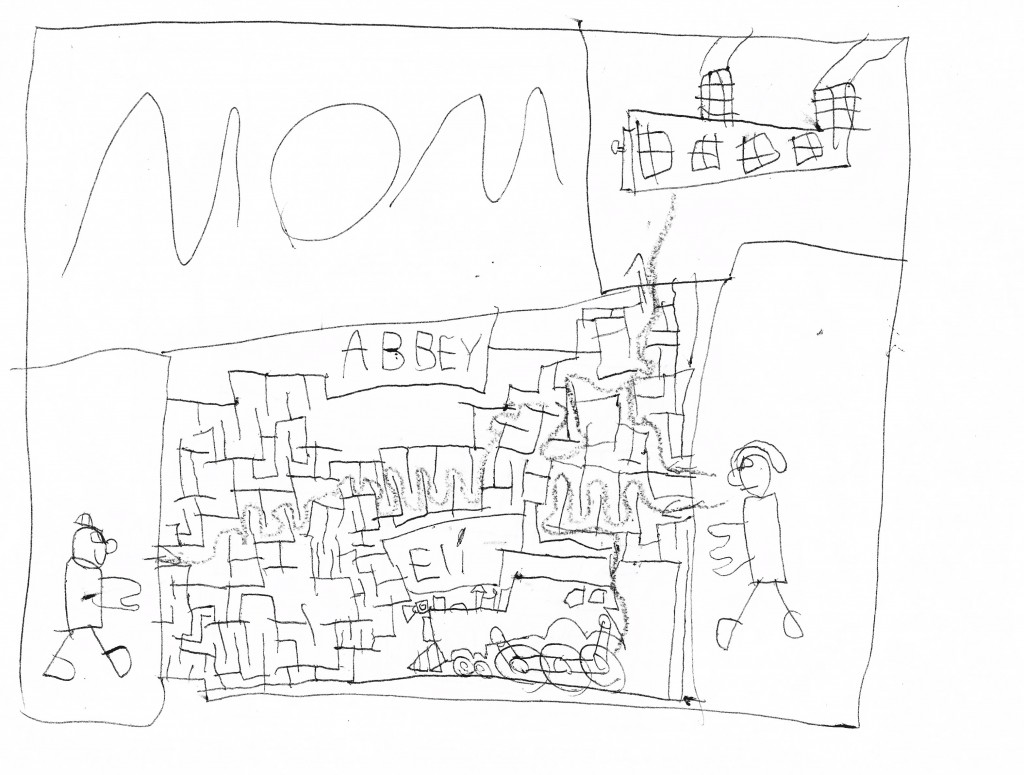 And yet, by the time my builder son reached the Transition Stage of 8 to 10 years old, the picture portion was dropped and this was what I found:
Not only is using pictures during the Foundation Stage possible with something like mazes, it even happens for math: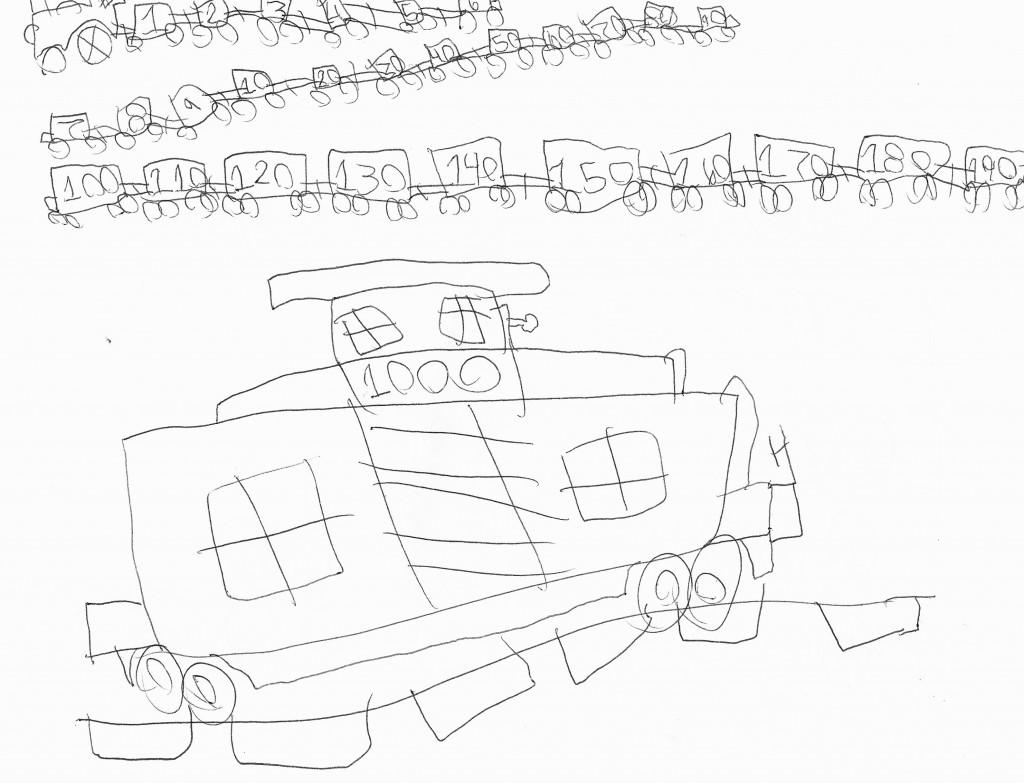 The universal gift of picture-based thinking also explains why a parent or educator may find doodles on their right-brained child's later developmental learning stages…it helps them turn on the right side of the brain as they are learning to transition without pictures. Here's an example with math:
Right now, schools are set up to support the universal gifts of the left-brained dominant learner: word-based thinking and sequential learning. We need to recognize and give value to the right-brained universal gifts of picture-based thinking and an extraordinary imagination. If you give space for a right-brained child to express themselves in the most natural way they are meant to process information, and if you observe carefully, you will most definitely notice evidences of the picture-based thinking found in right-brained learners that is the foundation for their learning lives. This is not infantile. It's a legitimate way to process information that will transform to primarily inside their minds as they integrate all the brain functions of both skill sets delineated as right- and left-brained traits.
Question: What evidences have you noticed in your right-brained learners of their picture-based thinking trait?